Operational Excellence Awards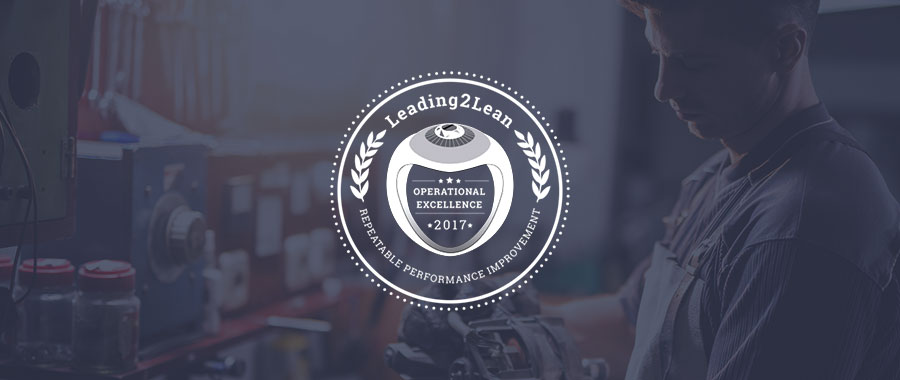 Recognizing Operational Excellence
At Leading2Lean, we have the honor of being engaged in the quest for improvement and operational excellence with many leading manufacturers across the world. There's a lot of talk in our industry about operational excellence, but it's much more rare to see it in action. We are honored to be able to partner with manufacturers and see firsthand the significant improvements being made. For this purpose, the Leading2Lean Operational Excellence Awards were created, to recognize those who are leading the industry and achieving outstanding results.
Our hope is that these awards will also serve as an opportunity for manufacturers to learn best practices and be inspired by those leading the way, and apply those actions for themselves. This way we foster a growing community of exceptional manufacturers achieving excellent results. The Operational Excellence award recipients are recognized at the annual Leading2Lean Conference. During the conference, attendees have an opportunity to learn from award winners and hear their success stories.
2020 OpEx Award Winners
Worthington – Westerville, OH
Purple – Grantsville, UT
2019 OpEx Award Winners
Lakeview Farms – Delphos, SC


Ball Metalpack - Springdale, AR


Past Winners
2018 OpEx Award Winners

BorgWarner's Seneca facility is the third recipient of the Operational Excellence Award. BorgWarner, an automotive propulsion system manufacturer, installed CloudDISPATCH for detection of malfunctioning equipment, maintenance monitoring, and planned machine work orders, overseeing the status of machines, data for operations reviews, and tracking KPIs. As a result of CloudDISPATCH, BorgWarner reported a 27% decrease in machine dispatch occurrences, a 57% decrease in production line issues, a 44% reduction in machine downtime minutes, all while achieving a 52% increase in output.

Autoliv's AOA plant has demonstrated continuous improvements in operational efficiency. Operations that previously were manual have now been successfully digitized and streamlined, increasing the accuracy and usefulness of production data.

Autoliv's Livbag facility in Brest, France, is another award winner for its impressive operational performance and innovation. One example of their success can be found in their spare parts management. Before CloudDISPATCH, the Livbag facility relied on spare parts being transported by workers across the plant floor. After installing CloudDISPATCH, Autoliv was able to successfully combine the system with automation to transport and deliver spare parts to the right locations at the right times. This eliminated the need for workers to perform this function, resulting in 352 labor minutes saved per shift, and the efforts of workers could now be focused on more value-added activities.
2017 OpEx Award Winner
Autoliv is the world's largest airbag manufacturer with 39% of the global market share in 2016. Aside from airbags, Autoliv develops and manufactures numerous systems in both the passive safety sector and the active safety sector for the automotive industry worldwide. Autoliv globally implemented CloudDISPATCH, Leading2Lean's Lean Execution System, in 80+ plants in 27 countries in less than 24 months.
2016 OpEx Award Winner
West Liberty Foods, based in West Liberty, Iowa, is one of the largest turkey processors in the United States. Executives at West Liberty Foods felt they could improve operations but needed a way to identify and solve inefficiencies stemming from a complex, manual data-entry system and lag time in understanding maintenance issues. After implementing CloudDISPATCH, the company saved $2 million in maintenance costs by tracking where money is being spent on materials and employee time. The company has also reduced employee turnover by 50 percent, achieved 89 percent utilization of its maintenance workforce and improved operational availability in at least one of its plants to 96 percent — an increase of nearly 10 percent.
Submission Criteria
When you click Submit your plant, a submission form will open where you'll have the opportunity to submit your improvement data and corresponding descriptions. You'll be prompted to provide data for a period of time of your choosing for each improvement (i.e. 6 months, 12 months, 2 years, etc.) You can provide data illustrating before and after the chosen period of time, and a description of the improvements observed for each of the above improvement areas.
Often the improvement metrics viewed together, and coupled with the background, tell the full improvement story of a plant. Therefore, although none of the individual improvement areas are required for submission, we encourage you to submit all improvement data and background possible for the following areas:
Operational availability / Downtime improvement
Production throughput increase
Reduction in PM time (wrench time)
PM or other compliance improvement
Employee turnover decrease
Utilization of workforce improvement
Reduction in maintenance or production costs and why
Additional improvement metrics used by your facility
Change in culture and employee morale at your organization
The overall improvement story of your facility (i.e. same OA with higher throughput, or same throughput with reduced OA, etc)
Cost of product reduction
Cost of spares reduction
(Note: It may be helpful to gather the data and descriptions for each improvement before beginning the submission process.)