These days, everything is connected. Your fridge is connected to your home's wireless network. Your phone is connected to your car. You're connected with a bunch of people on social media even though you haven't talked to them since middle school.
Isn't it about time that manufacturing workers were connected, too?
Lucky for you, that dream has become a reality. Thanks to connected worker platforms like L2L, your entire manufacturing workforce can now stay in touch with one another in real time. Better yet, you can expect all kinds of benefits from this connectedness, including increased visibility, boosted productivity, and improved worker safety.
Here's everything you need to know about the connected worker solution: what it means, how it works, why it matters to manufacturers, and how to leverage connected worker technology.
What is a connected worker platform?
Simply put, a connected worker platform is a software solution that helps human workers become more efficient and productive through the use of digital technology. Connected workers are integrated into their environment by technologies like data analytics, AI, AR/VR, IoT devices, cloud computing, and more. This enables them to make informed decisions, collaborate easily, and take action faster.
In the context of manufacturing, connected worker platforms help plant leaders digitize and streamline the end-to-end production process. Connected worker software like L2L integrates with existing factory systems, such as ERP, MES, CMMS, and offers leadership a full view of shop floor operations.
Moreover, connected worker platforms benefit people at all levels of the organization. They empower frontline workers such as operators and maintenance technicians with the tools and information they need to perform at their best. On the flip side, plant, operation, maintenance, and IT managers, and even the C-suite, can leverage these platforms to gain visibility into the health of their plants, collaborate with vendors, and make strategic decisions.
Connected worker technology and principles that power this approach
Think of connected worker technology as a branch of Industry 4.0 that focuses on complementing, augmenting, and enhancing the capabilities of human workers. The key technologies behind the connected worker movement, which we'll cover below, empower workers at all levels to make informed decisions and take action with confidence.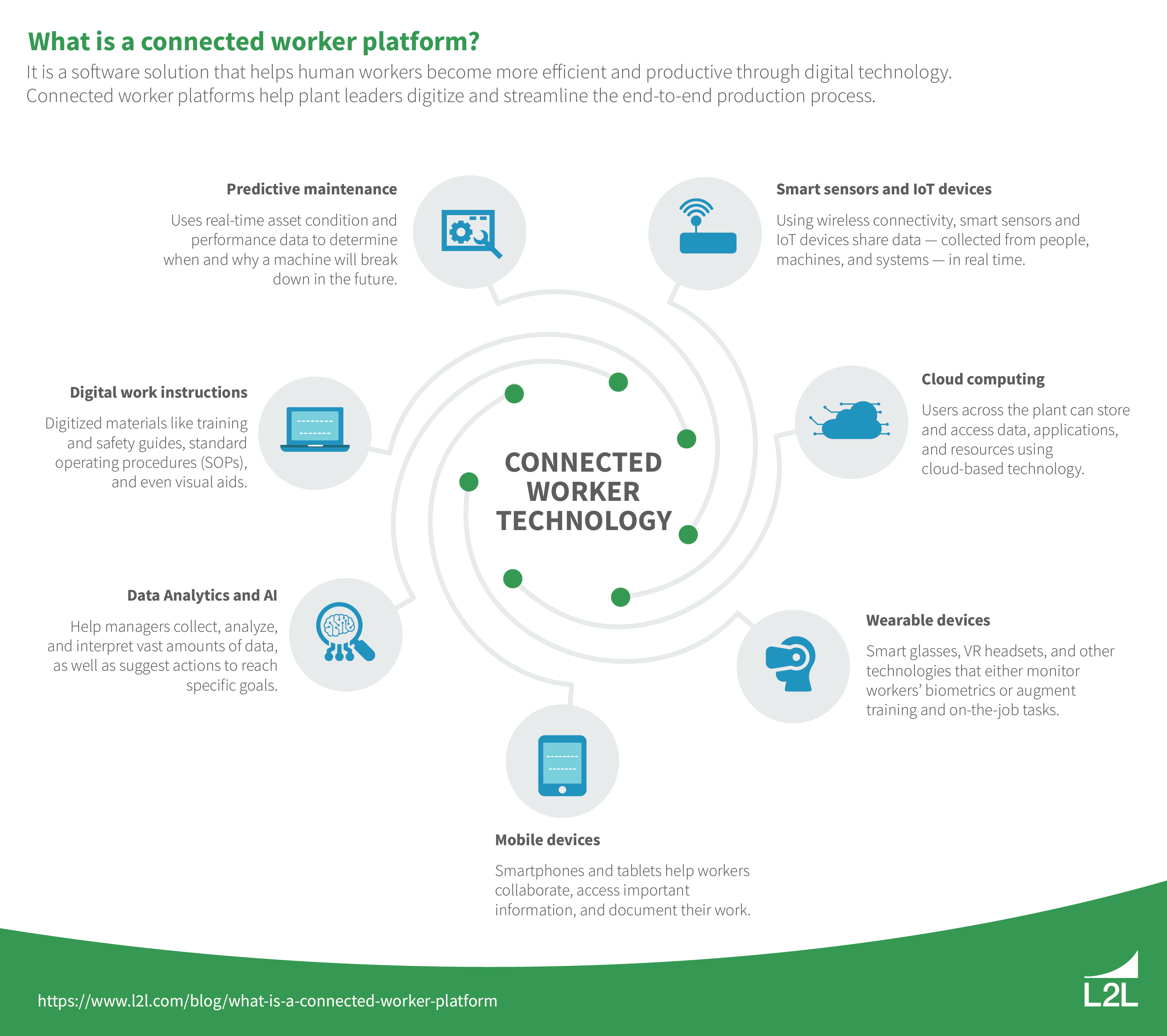 Here are the major technologies that power a connected workforce:
Smart sensors and IoT devices: Using wireless connectivity, smart sensors and IoT devices share data — collected from people, machines, and systems — in real time. For example, smart sensors attached to an extruder may detect abnormal vibrations and send an alert to nearby maintenance technicians automatically.
Cloud computing: With cloud computing, users across the plant can store and access data, applications, and resources using cloud-based technology. Cloud computing enables critical functions like real-time collaboration, data analytics, and more.
Wearables: Wearables, or "wearable devices," are digital technologies like heart rate monitors, smart glasses, and virtual reality (VR) headsets that either monitor workers' biometrics or augment and optimize training or on-the-job tasks.
Mobile devices: Mobile devices like smartphones and tablets help workers collaborate, access important information, and document their work using technology they're already familiar with.
Data analytics and AI: Whereas data analytics refers to the process of examining, interpreting, and gleaning insights from vast amounts of data, artificial intelligence (AI) refers to machines and systems performing tasks that typically require human intelligence. Connected worker platforms use these innovations to improve worker efficiency, productivity, and safety.
Digital work instructions: Unlike physical notebooks, manuals, and whiteboards, digital work instructions digitize important materials like training guides, safety guides, standard operating procedures (SOPs), and even visual aids.

Predictive maintenance: A type of proactive maintenance, predictive maintenance uses real-time data to determine when and why a machine will break down in the future. This helps plants deal with maintenance issues proactively – before they turn into costly failures.
To make the most out of connected worker technologies, you need to employ the right strategies for fostering a culture of continuous improvement.
First, ensure that your connected worker solution makes it easy for workers to share (and access) knowledge across the plant. Second, make sure that you can accurately capture and interpret the data you need. Finally, keep in mind digitalization is an ongoing process, and agility is crucial for future-proofing your factory.
The benefits of implementing a connected worker solution in your facilities
Connected workers are a pretty big deal. It's safe to say they might even represent the future of the entire manufacturing industry.
That's because a connected worker comes with all kinds of benefits for your workforce, your company, and your manufacturing process overall. We discuss some of those perks below.
(Want an in-depth look at the connected worker movement? Download our FREE eBook.)
Higher-quality data
You probably know that data is the currency of modern manufacturing. But what if there was a way to get even better data from people and machines?
A connected worker initiative makes this possible by empowering your workforce to capture or enter data in real-time — which means no more walking across the plant to manually enter now-outdated info in a spreadsheet. Human error is reduced, visibility is increased, and operational excellence becomes the name of the game.
Simpler data collection
You don't just get higher-quality data from connected workers. You also make it easier for them to capture that data.
Connected worker platforms enable users to better utilize their favorite smart devices — like smartphones, tablets, or wearable tech — to record information without interrupting the task. This data is automatically uploaded to your platform and is immediately visible to everyone else who needs it.
Improved worker safety
Say a new, non-connected worker is struggling with a task. To avoid a drop in productivity, they might just do their best and risk dangerous mistakes.
A connected worker, on the other hand, could quickly and easily access work instruction documentation, training materials, best practices submitted by coworkers, and more. The result is improved worker safety with a side of better productivity, and that's a win-win.
Better communication
Social media contacts from middle school notwithstanding, connectedness is about communication. When workers can share insights, delays, and problems at the tap of a finger, the entire plant stays on the same page — and, better yet, your people can put their heads together to solve problems without having to be in the same physical space.
For example, workers might use an app to share photos of safety problems in the plant, helping solve problems and protect one another. They might also have shared chats dedicated to specific machines so they can keep track of how each machine is performing on a given day.
Better employee engagement
Connected workers have the data they need at the moment they need it. With software that's as easy to use as smartphone apps, they're empowered with information to solve problems — which makes their jobs easier and more fulfilling. Plus, when your workforce feels they can live up to their potential and play to their strengths, retention rates improve (boosting productivity).
Easier hiring
Wondering about the cure for the so-called "Great Resignation"? A connected worker platform might be just what you need. As it turns out, a little well-placed digital transformation goes a long way toward making your workplace more attractive to job seekers — especially younger candidates who expect technology at their fingertips.
Connected worker solutions also give managers a real-time view of worker skills, helping them identify gaps and prioritize filling those roles.
Boosted efficiency
At the end of the day, one of the greatest benefits of having connected workers is productivity. People who know what to do and how to do it don't have to worry about extra steps or wasted time; instead, they get things done — and that's good news for them, their coworkers, your company, and even your end customers.
How do you choose a connected worker platform?
The ideal platform for connected workers is one that bridges the gap between man and machine. You're not just connecting factory workers to other teams and to one another. You're also connecting them to mobile devices, machines, historical data, maintenance requests, and more.
Your connected workforce platform should include the right technology for the right needs, providing the visibility you need to make informed decisions and unify your workforce effectively.
When you choose a platform, you need to prioritize the needs of your workers:
Which technologies will make them more effective in their roles?

How can you alleviate their biggest pain points?

What's preventing them from maximizing their potential?
Once you identify where you are versus where you want to be (L2L's Smart Manufacturing Maturity Assessment Tool can help!), it's time to select the right solutions for your needs. Connected workforce software like L2L can help you unite your shop floor around your plant goals — no matter where you are in your digital transformation journey.
Connect your frontline workers with the L2L platform
Your workforce deserves to be connected, especially if you're looking for improved productivity, visibility, worker safety, and efficiency. If you want to see these benefits come to life on your shop floor, you need the right connected worker technology. L2L's connected worker solutions can help you get there — in months, not years.
At L2L, we bring people and machines together in ways that just make sense, and it's all possible thanks to our connected worker platform. Get started today by booking a demo today!