In a survey of 300 publicly traded businesses, McKinsey found that design is the differential for top-performing companies. Thoughtful, deliberate design correlated with strong financial performance across industries like media technology, manufacturing of consumer goods and retail banking. This trend remained consistent regardless of whether the company sold physical products, digital products, services or a combination of all three.
Of course, design is not just how something looks — it's also how it works.
In the manufacturing industry, designing the "how" aspect of operations is at the core of realizing greater revenues, eliminating waste and delivering high levels of value to the end customer. The solution lies in the developments and shifts within digital manufacturing: What it is, where it's headed and why companies are immersing themselves in improving the "how" of the way things work.
The future of digital transformation in U.S. manufacturing
Given its industrial power, you'd think digital manufacturing is in full swing, thriving in manufacturing companies and heartily embraced by operators on the plant floor.
You'd be only somewhat right: The truth is that American companies are lagging.
- 70% of companies admit that the only reason they considered updating their infrastructure was to respond to competitive pressures — it's fear of missing out, not the advantage of emerging technologies, that propels change.
- Only 35% of companies that begin digital transformation feel confident they can finish it; they don't feel they have adequate leadership to guide these changes.
- Even when companies embrace software designed to simplify and automate operations, integration occurs only 29% of the time.
Clearly, there are still significant opportunities to be realized in the present state of digital manufacturing.
Digital transformation in the U.S. is not all doom and gloom, though. Some industries, like IT and technology, are better poised to advance. They're high on the digital maturity scale, while also adopting initiatives for transformation across the enterprise in a 3-year timeframe.
In comparison, the manufacturing industry is low on the digital maturity scale, even though its enterprise strategy for digital transformation is the same as a more sophisticated industry like IT and technology. However, if many manufacturing companies did commit to transforming, it would be premature. They simply don't have the infrastructure in place — yet.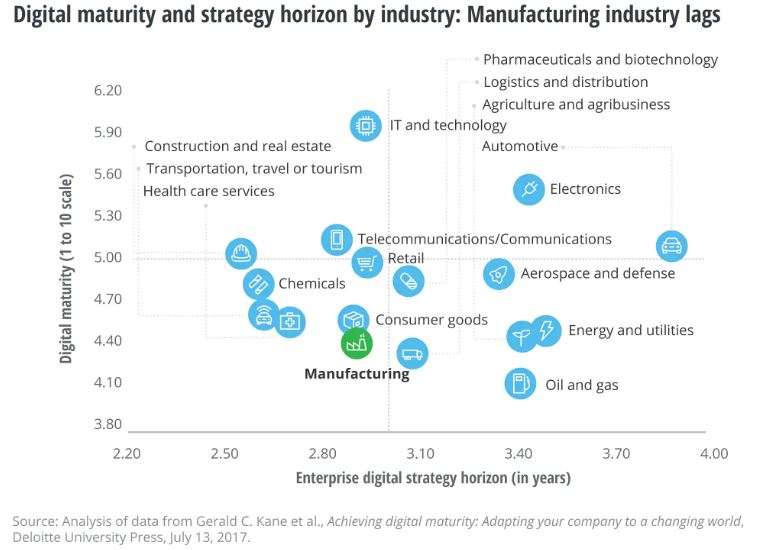 Digital manufacturing represents a new way of doing things, from smarter analytics to supply chain automation — but it's also the next natural step for firms. The requisite for this evolution is business development and maturity, which are themselves measures of readiness.
The manufacturing industry understands that digital transformation is a necessary step toward cost savings, operational efficiency and other critical advantages.
What is digital manufacturing?
Digital Manufacturing makes sense when set against the backdrop of the Fourth Industrial Revolution, known as Industry 4.0. It's all about a smart factory enabled by specific activities, including:
Automation.
Servitization.
Industrial Internet of Things (IIoT).
Robotics.
Additive Printing.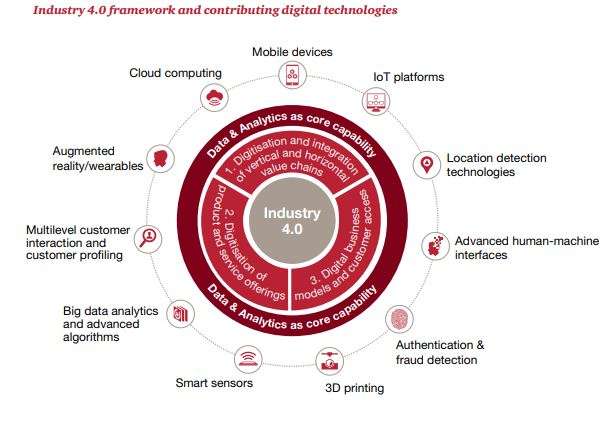 Digital transformation for manufacturing companies has four main hallmarks:
Business intelligence.
Automation of, and real-time access to, analytics.
Virtualization.
Reliable, high-performance network delivery.
The activities grouped under Industry 4.0 are major contributors to spearheading digital transformation in manufacturing companies. The caveat is that these initiatives have to be undertaken synchronously and integrated as a complementary set of capabilities. This is called the PDP (Physical-Digital-Physical) loop, and it's a complex cycle that enables real-time access to data and intelligence, giving actionable insights for smarter, more aligned decision-making.
For manufacturing in particular, the PDP loop is an integral part of the product cycle. Developers create a digital copy of the physical product they're working on, relying on real-time data and analytics to then optimize this product along multiple parameters. Production then begins, relying on digital supply networks, or DSNs. These are integrated networks characterized by a continuous flow of information. They're designed to:
Facilitate automation.
Add value.
Optimize analytics.
Improve operational efficiency.
Generate insights.
Create opportunities for cost savings.
The trick to all digital transformation efforts is that you have to plan meticulously if you want to get them right — and often, that's easier said than done.
Where is digital manufacturing headed?
Digital manufacturing is moving toward real applications, but it will take time to get there. Current estimates say that only about 26% of companies are already using some type of digital manufacturing — the "frontrunners."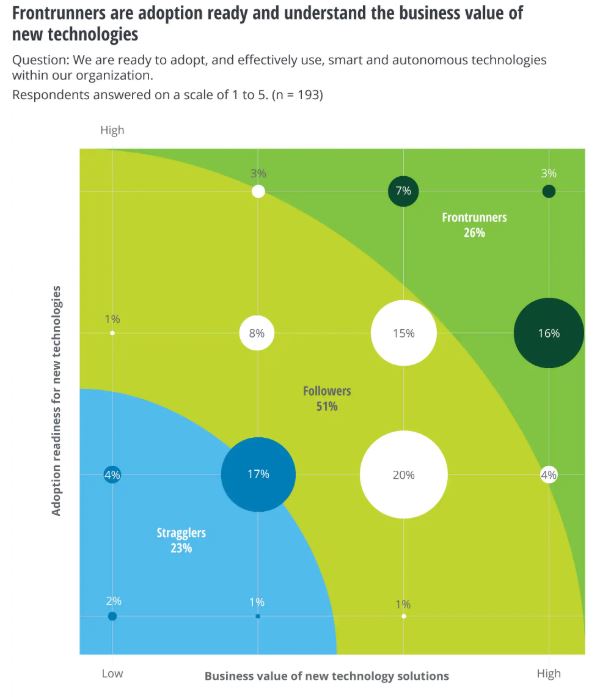 These frontrunners strongly believe in the value that adopting new technology has for digital transformation. Their competitive advantage is simply the fact that they're the first players at the table.
The digital manufacturing revolution relies on five related trends emerging today:
Data-driven
Airbus uses digital innovation to enhance value for its customers and its technicians. Known as Skywise, Airbus's open-data platform offers features such as fleet analysis, efficiency monitoring and predictive maintenance. Data also drives the analytics tool on the platform, which minimizes fuel consumption. So far, more than 12 airlines and 2,000 aircraft connect to its digital platform.
Connected
Networked manufacturing allows for waste reduction, better predictive maintenance and improved flexibility. It's the customer's demand that becomes the driver in the supply chain, as production systems will be designed to handle smaller volumes and mass-customized product portfolios.
For example, global fashion retailer Zara is using connected tools to respond even faster to customer preferences, reduce supply chain costs and empower staff members to update a store's inventory. All it takes is waving a small, hand-held device at racks of clothing.
AI-powered
AI is changing the landscape by learning what the landscape is, then using that insight for continuous improvement. In partnership with Google, former Baidu star Andrew Ng is creating Landing.ai, a platform specifically focused on bringing artificial intelligence to the manufacturing industry.
The platform can empower an organization's digital maturity, prompting evolution based on a digital transformation strategy. Landing.ai also developed Landing Light, an AI-powered Software as a Service (SaaS) product designed to visually inspect and showcase detection of defects on manufacturing lines.
On-demand
This trend relies on 3D printing, known as "rapid," "additive," "instant" or "on-demand" manufacturing. Used by Boeing to create non-flight critical hardware for military aircraft, on-demand or "Direct Digital Manufacturing" (DDM), is a way to fabricate components seamlessly.
From computer design to actual parts in hand, DDM opens up a whole new realm of possibility. Speed is just one benefit. An even more tangible advantage is the fact that it doesn't call for an entire manufacturing line and doesn't need retooling for new or small changes.
Robotic
Automation, a tenet of digital transformation in Industry 4.0, relies on robotics. This enables a level of accuracy and productivity on processes, far beyond human capability. Robotics in manufacturing also has the potential to bring in voice and image recognition to re-create human-centric tasks.
It's manufacturing firms that will invest the most in robotics — because manufacturing businesses have the most to gain.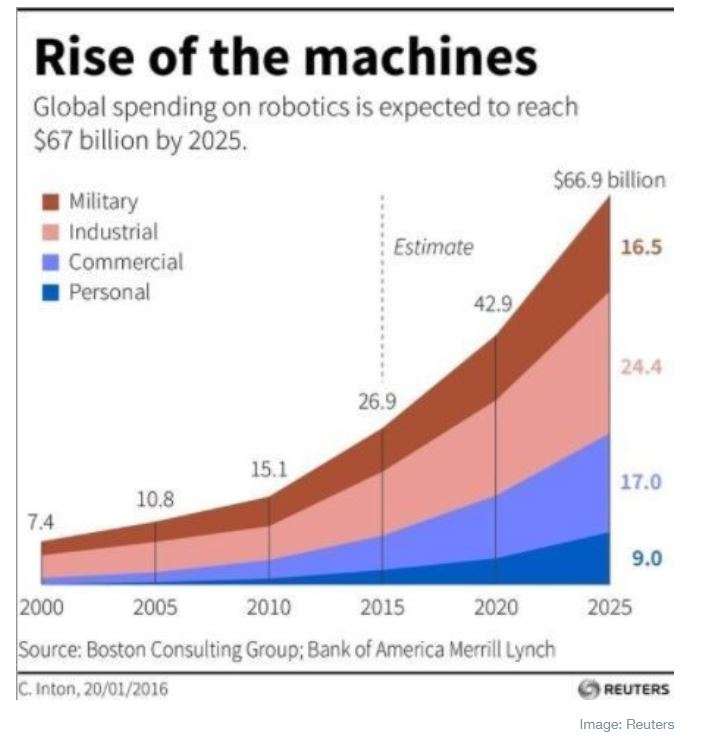 These examples highlight the obvious: You need digital manufacturing because there's no avoiding it.
The only question for manufacturing companies is if there's a chance to transform, not as a reaction or an obligatory response to competitors, but as a proactive next step.
To take full advantage of the opportunities it brings, you need to be leading the charge on digital transformation in manufacturing.
Why do you need digital manufacturing?
Don't think of digital manufacturing like pulling teeth. Don't conceive of it as a spotlight on your firm's lack of leadership or capabilities.
Digital manufacturing presents a clear and calculable competitive advantage to firms willing to commit. A study by Genpact reveals that 64% of executives understand there's significant value to be gained from digital technologies over the next two years.
Beyond this, five key strengths outline why you need digital manufacturing:
1) Flexibility
Thanks to the integration of software, tools, methodologies and data, manufacturing companies have the chance to be more flexible than ever. They can reuse manufacturing lines, fitting them with the technologies necessary to manufacture multiple products with speed and ease — much in the way Toyota does with its TNGA platform.
2) Workforce talent utilized to their fullest potential
Rather than allocate human resources to repetitive tasks, digital manufacturing repositions humans at jobs where they can use their greatest strength: creative problem-solving.
While robotics and automation can take care of defect detection, assembly-line production and even predictive maintenance, it's up to individuals to administer these actions and make the right decisions from this highly curated and real-time data.
3) A focus on continuous improvement
Solutions in digital manufacturing demand integration because that's the only way to realize continuous improvement. If factories aren't connected, how can data be genuinely effective?
Continuous improvement is also at the heart of flexibility. For businesses to remain flexible in their output and even their processes, they need to continually iterate on the final product or streamline the process to a greater degree each time.
4) More intelligent and efficient operations
Iteration leads to more intelligent and efficient manufacturing operations. Business intelligence relies, in part, on AI platforms designed to bring constant, attenuative learning and observation to the process. The rest is simply an inevitable consequence of continuous improvement and iteration.
Operational efficiency goes beyond waste reduction or elimination. It pushes into the territory of innovation, allowing firms to lead with customer value as a primary goal.
5) Greater revenues
If you plan to be a frontrunner in the industry , you have more to gain. It makes sense: Simply because they're in somewhat uncharted territory, first movers can innovate, delight and surprise, setting themselves apart with greater ease.
They're three times more successful in driving higher revenues while also seeing significant gains in cost reduction.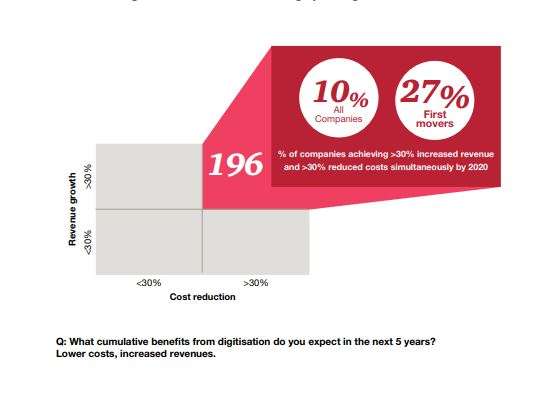 Followers and stragglers will have to play by their rules when first movers arrive at digital maturity first, prepared to implement an enterprise-wide digital transformation strategy.
Go digital today
You can't have a digital manufacturing revolution without technology investments. Before an enterprise-wide strategy for digital transformation comes along, businesses need the software and infrastructure intended to power this change.
Yet, many manufacturers have a difficult time making this change. If you're already struggling with daily operational challenges, how can you simultaneously develop and invest in a strategy for your digital manufacturing revolution?
In our Smart Factory eBook, we show you it's possible. Download it to discover how to address current production issues while paving the path forward using a proven roadmap that focuses on quick ROI and targeted success.