Digital factory. It's a phrase once unheard of in the manufacturing world. These days, it's thrown out like candy at a parade, describing the high-tech, cutting-edge paradise that, despite being mentioned all the time, may seem just beyond your reach.
The truth is that the digital factory vision is now the foundation for the future of manufacturing. By transforming your plant, making your processes more connected, and reducing downtime in all its forms, this solution can unlock your path to future success.
And it's simpler to implement than you think.
Here's a crash course in everything digital factory.
What Is a Digital Factory?
A digital factory refers to a manufacturing facility that incorporates advanced digital technologies and processes to optimize and automate various aspects of production.
Digital factories use technologies such as the Internet of Things (IoT), artificial intelligence (AI), big data analytics, cloud computing, and robotics to improve efficiency, productivity, and flexibility within the manufacturing environment.
In a digital factory, physical systems and machines are interconnected through IoT devices, allowing them to collect and share real-time data. This data is then processed and analyzed using AI and big data analytics techniques to gain insights and help plant leadership make more informed decisions.
Integrating digital technologies enables better visibility, quality control, and schedule coordination across the end-to-end manufacturing process. And this means improved quality, reduced costs, and faster time-to-market.
The Main Features of a Digital Factory
Now that we've introduced the concept of a digital factory, it's time to take a closer look at the key features that distinguish a digital factory from a traditional factory.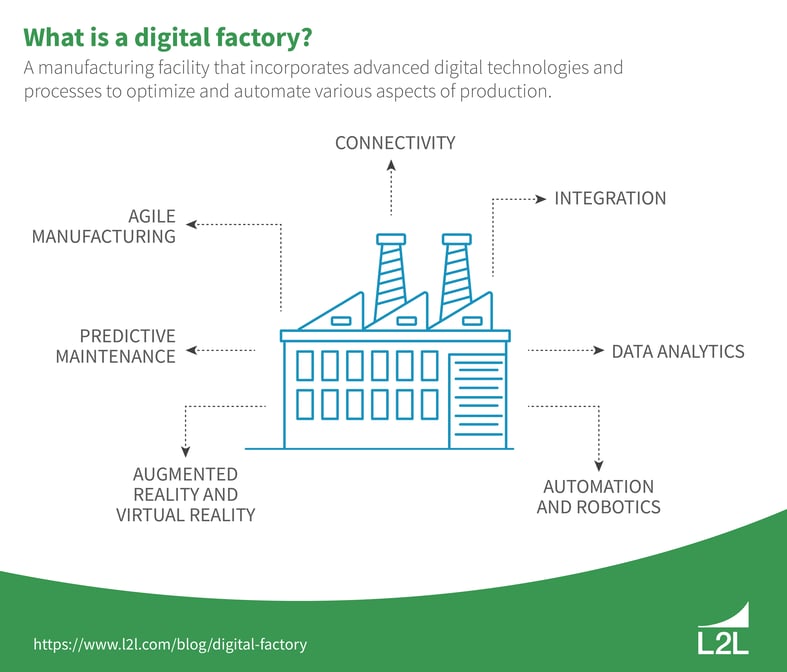 In a digital factory, digital technologies — such as connected worker platforms — are used throughout the production process. Innovations as simple as IoT sensors and as complex as virtual simulation complement and augment workers' abilities.
Here are some of the most common digital factory features:
Connectivity: Refers to the flow of data through a networked ecosystem of devices and components within your factory. It's your gadgets' ability to "talk" to each other — facilitated through technologies like the Industrial Internet of Things (IIoT), wireless communication, and cloud computing.

Integration: Refers to the connection and coordination of different systems and processes involved in production. It involves the harmonious interaction of design, production, supply chain, and other elements facilitated through digital technologies like data sharing and automated workflows.
Data analytics: Capturing the troves of data your plant generates every day is important, but it's only as useful as your ability to make sense of it. Data analytics, a staple technology of the digital factory, is the process of turning raw data into meaningful insights that help you make better decisions for your business.

Automation and robotics: Factory automation and robotics enable plants to automate repetitive or dangerous tasks. Smart factory automation technologies can include robotic process automation (RPA), autonomous vehicles, and certain machine learning (ML) and AI applications.

Augmented and virtual reality: Many digital factories employ augmented reality (AR) and virtual reality (VR) technologies to aid in frontline worker training and intelligent on-the-job guidance. Whereas AR technologies, such as smart glasses, integrate with workers' real-world settings to help them perform tasks, VR technologies, such as VR headsets, help workers learn tasks in completely simulated, no-risk environments.

Predictive maintenance: Predictive maintenance is a manufacturing maintenance strategy that uses digital solutions like AI and IoT sensors to predict when a machine will fail. In a digital factory setting, predictive maintenance uses data gathered from machines to forecast the best times for machines to undergo maintenance.

Agile manufacturing: Digital factories use a customer-centric production approach called "agile manufacturing" to quickly adapt to market changes, efficiently manage resources, and minimize waste. Agile principles encourage collaboration, continuous improvement, and quick adjustments to meet evolving demands.
How Do You Create a Digital Factory?
Creating a digital factory may sound overwhelming, especially if your plant still relies mostly on manual processes to keep production running. But the truth is that no one digitizes factories overnight. It's a gradual process that unfolds in smaller, manageable steps.
The first step in creating a digital factory is assessing where your factory stands on the digital transformation scale. There are many ways to go about this process, but a good place to start is a simple tool like L2L's smart manufacturing maturity assessment calculator.
No matter where you're starting, it's important to remember that building a digital factory takes time. Moreover, digital factories aren't final destinations — digitalization is an ongoing journey of improving processes and introducing new technologies.
The Challenges of Digitalizing Factory Operations
While creating a digital factory can be incredibly rewarding for your business, the journey comes with challenges. Some may be unavoidable, but many are easily overcome with the right strategies.
Here are the most common challenges manufacturers face when implementing new digital technologies in their factories.
Integration of existing systems and legacy equipment. When you introduce new technologies into your plant, you'll most likely need to integrate them with the systems and equipment you already have. Without proper guidance, this can be a long, frustrating process.
Workforce upskilling and training. Your digital factory technologies are only useful if your workforce knows how to use them properly. Training employees on new tools and systems will take time and money — and there's a chance they'll have a hard time with adoption.
Data management and security. Digital factories generate, collect, and store a massive amount of data that needs to be kept secure. Proper data management and security protocols are essential for keeping your information organized and safe.
Overcoming resistance to change. Accepting major change is difficult for people at all levels of a manufacturing organization. Overcoming resistance to change not only requires selling the value of a digital factory to your workforce, but following through with adequate training on the new technologies.
Every digital transformation journey will have its obstacles. However, you can stay ahead of common challenges that come with digitalization with user-friendly software like L2L.
Real-Life Examples of Digital Factories
Example 1: ADAC Automotive
ADAC Automotive, a leading manufacturer of vehicle access systems, was struggling with process recording. Relying on paper-based systems to identify causes of downtime and production performance issues, the company was wasting time and had limited visibility into plant operations.
To enable fast issue resolution and prevent those issues from recurring, ADAC implemented L2L in four of its facilities. The company now captures and details hundreds of operational activities through automated data capture and analysis across 200 production lines. Information like lab samples, first-part checks, calibration, and maintenance activities are fully visible to plant leadership — in real time.
Digitizing reporting processes helped ADAC create a single source of truth accessible to the right people at the right time. As a result, the company saw a 67% improvement in on-time preventive maintenance and a 62% reduction in major downtime events.
Example #2: Spirit AeroSystems
Aerospace manufacturer Spirit AeroSystems needed a way to transform its 80-year-old Wichita facility into a smart factory capable of meeting the industry's strict regulatory requirements. Instead of overhauling the historic facility and building a new one, the company decided to integrate cutting-edge digital factory solutions with existing systems and structures.
The company digitized its facility with smart manufacturing technologies such as robotic arms, sensors, integrated supplier systems, and a radio-frequency identification (RFID) ecosystem to improve material traceability. It also implemented a cloud-based dynamic scheduling system enabling machine and material monitoring as well as real-time job dispatching.
As a result of this digital factory upgrade, Spirit AeroSystems saw dramatic improvements in productivity, efficiency, and profitability.
Go Digital with L2L
Manual systems had their time and place, but no longer. These are the days of Industry 4.0, and if you play your cards right, you can start your own revolution — a digital one.
The time, money, effort, and energy saved by a digital factory feeds positively and directly into your bottom line. Sure, there's plenty to know — like what IoT actually means or how to actually implement automation — but it's a journey well worth taking.
If you're ready to learn more about the digital tools at your disposal, download our Smart Factory eBook today.