Earlier this May, L2L's 2023 Connected Workforce Summit kicked off in Salt Lake City, Utah. The three-day event featured well-known speakers in the discrete manufacturing space, including LNS Research Analyst Allison Kuhn, NASCAR legend Larry McReynolds, and L2L CEO John Davagian, with attendance by over 70 companies.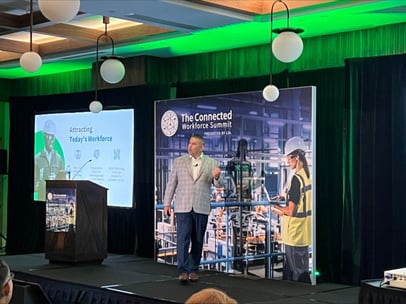 The Summit also highlighted several L2L product enhancements, from intuitive new worker portals to artificial intelligence-enabled functionalities. And attendees were full of questions and ideas for how connected worker solutions could shape the future of discrete manufacturing.
"Honestly, there is so much great content," said one attendee. "We are still focusing and formulating our own road map of what our next steps are and perfecting our dispatch process."

"We are very excited about the L2L Team Board and the possibilities of role-based access," another attendee commented.
Let's take a quick look at some of the highlights from this year's Summit.
Featured Speakers
Over the course of the Summit, we were thrilled to hear from some of the brightest minds in manufacturing, covering important topics from efficiency challenges to equipping new generations of frontline workers with the right tools for success.
Presenters at this year's Summits included:
Allison Kuhn, LNS Research Analyst

Larry McReynolds, NASCAR Legend & Keynote Speaker

John Davagian, L2L CEO

Jeanine Burket, Oregon Tool Director of Network Engineering & Project Management

Phil Buckman, Great Lakes Copper VP of Engineering Technology

John Fishell, L2L VP of Product

Eric Whitley, L2L Director of Smart Manufacturing
"Allison's presentation stood out," said one attendee. "Industry 4.0 is starting to back off. Keeping frontline workers satisfied is gaining traction."
"Larry McReynolds struck a chord with me," another attendee stated. "His 'always do better' mentality jives with why people are using or will begin to use L2L."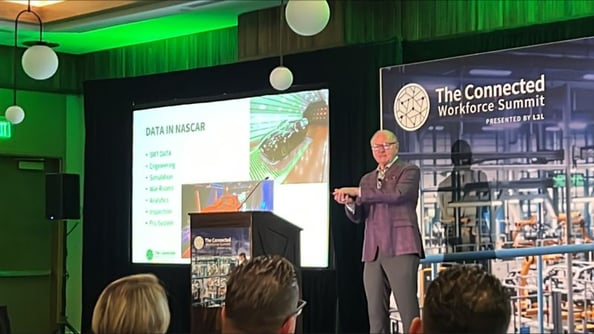 Product Demos and Enhancements
Another key focus of the Summit was familiarizing attendees with L2L's products and future enhancements. Attendees had the chance to immerse themselves in hands-on product demos, ask questions, and get a sneak peek into exciting new developments on L2L's horizon.
"We can't wait to get our hands on the new development features like Maintenance, Staffing, Assist, and collaboration tools," said one attendee.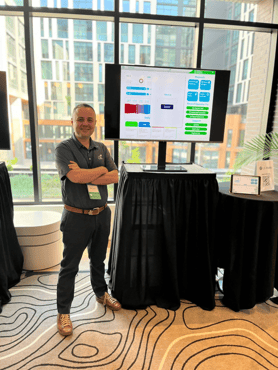 During the event, L2L also announced several new product enhancements, including:
L2L Assist: Artificial intelligence to boost worker efficiency

Technician and operator portals: Radically simplifying work for the frontline

Collaboration tools: Connecting, sharing, and learning across the plant

L2L Team Board: A new way to own your daily stand-ups
"I enjoyed the new product showcase," said one attendee. "It gave us insight into what is coming and potentially which direction our facility could move going forward."
Parting Thoughts
We were thrilled to engage with customers from all over the country at this year's Summit, share insights, and continue to foster a community of continuous improvement. As always, we hope to see everyone again — and in-person — at the Connected Workforce Summit 2024!